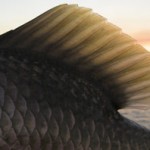 The requirements to become a member of the One Metre Barra Club are simple. Catch a Barramundi 1 metre (100cm) in length or more, measure it, photograph it and submit the details to us. We at OMBC encourage catch and release fishing.This in not required to become a member but photos of gilled, gutted or throat cut fish are not acceptable.
You can submit an application by yourself or with any of the participating guides in this program. Simply fill out the information form on the Join Now section of this website and attach the digital photo via the easy to use program. Once it is processed and approved you will then be sent your One Metre Barra Club certificate and custom sculpted solid pewter Barramundi pin in a wooden presentation box. The certificate is sent electronically as a printable file and your Barramundi pin is mailed to you directly. Your photo and membership entry is posted permanently on this site and becomes part of our searchable database of BIG BARRA. Search OMBC by date, location, fish size or angler name.
You can also become a member by fishing with any of our participating fishing guides and catch a Barramundi one metre or more. Guides in our program will have their own custom One Metre Barra Club pins and display boxes available for you and will help you submit your membership application.
One Metre Barra Club pins can be worn on hats or more formally on ties or jackets. They also look great displayed in their presentation boxes. Memberships can also be gifted to someone that you know has caught a 1 metre Barramundi all you need do is supply the information and digital photo and we will help you make it a surprise for that special occasion.