We would like to welcome and wish Jenny Petursson a very Happy Birthday with her entry to the One Metre Barra Club!. Jenny caught this fish while on a trip that we believe was an early birthday celebration for her. Ian Hunt who entered Jenny into the club tells us we might get some more details from her once she receives her pin and certificate on her birthday this December 15th. This is the first entry for a Western Australian Barramundi and a nice one to start! Update Below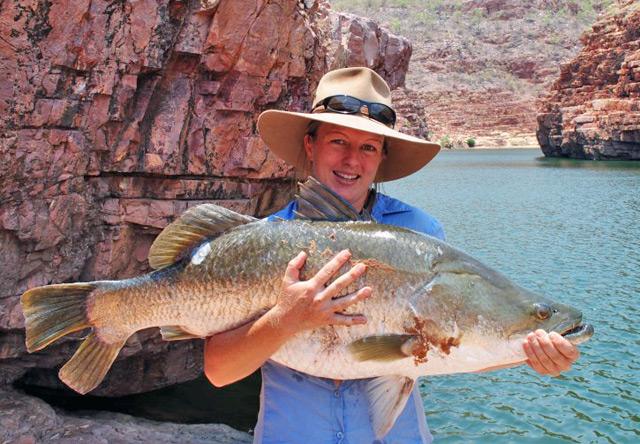 Jenny sent us this update. "I'd been pretty keen to check out this corner of the Kimberley for a while, and when Ian asked what I wanted to do for my 30th birthday I said I'd like to spend a few days checking it out. We decided to go early before the rains came, so took a couple of days off work and after a brief stop in town to pick up the cheapest combo I could get (my favourite rod had a run in with a tree the day before we left!) I ended up with a $150 Rovex /Crystal baitcaster combo which I loaded up with 60 pound braid & 80 lb trace and tied on a Reidys Taipan lure.

We were flicking off the rocks in a stunning gorge on the last day of our stay when suddenly I got a massive hit. Unlike all the smaller barra I've caught, this big girl did not jump, spin or do backflips, she just put her head down and dived deep. Over the next 15 minutes, every time I got her in sight she was off again! Eventually I could feel her begin to tire, and as I brought her in realised this really was the fish of a lifetime!
It was only after I'd released her that we realised the trace clip had come undone and was almost perfectly straight! With no net or lip grippers it really was pure luck that got this fish in!

I'm stoked to have the 1st WA fish on your site, thanks for having me!" You are welcome Jenny, what a catch!